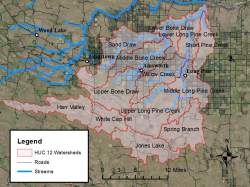 The Long Pine Creek Watershed (LPCW) is located in north central Nebraska on the northeastern edge of the Nebraska Sandhills. It encompasses 332,000 acres with much agricultural use. Perennial streams in the watershed include Long Pine Creek with its major tributaries being Short Pine Creek, Bone Creek, Sand Draw Creek, and Willow Creek. The towns in the area are Ainsworth and Long Pine.
Two creeks are listed as Impaired Streams Identified for Management Actions in Nebraska's 2015 Nonpoint Source Management Plan, listed on the 303(d) impaired water list for E. coli and temperature.
The ultimate vision in the LPCW is to locally manage, restore, and maintain the watershed by reducing erosive forces, turbidity, and pollutants to improve habitat and stabilize stream flows.