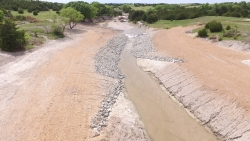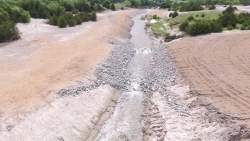 Project Overview
The SD-14 Rehabilitation Project consists of 2 Engineered Rock Riffle Structures and Bank Stabilization that was planned, designed, and permitted by JEO Consulting Group, Lincoln, NE, on a portion of Sand Draw Creek in Brown County, Nebraska approximately 7 miles north of Ainsworth, Nebraska. Planning and construction funding provided through Nebraska Environmental Trust (NET) and Nebraska Department of Environment and Energy (NDEE). 
Project objectives: Addressing issues relating to erosion, streambed degradation, streambed elevations, water quality/run-off, high sediment loads, and inadequate aquatic habitat.
Construction Overview
Contractor: Buer Bulldozing
Rock hauling began the middle of August 2020 and was completed prior to construction starting of the SD14 Rehabilitation Project the beginning of March 2020 with a "Final Walk Through" held on May 7th, 2020 with JEO Consulting, Landowner, MNNRD Staff, MNNRD Board of Director's, and the Contractor. The Contractor finished the clean-up work on June 13th, 2020.
Project detail includes: Gravel aggregate surfacing on the access route in and out of the site, installation of two rock riffle structures, grout across the main structure, and bank stabilization.
Post Construction Overview
The MNNRD Staff took part in the Re-Seeding and Woody Biomass Utilization beginning the middle of May with broadcasting wetland seed along the bottom edge of the creek, broadcasting seed along the upper portion of the creek banks, drilling seed on the flatter areas, along with cutting, chipping, and spreading wood chips on the drilled areas, broadcasted areas, and on the access trail road. Post construction efforts were finished by the beginning of June 2020.
SD14 Rehabilitation Project - Before Photos
SD14 Rehabilitation Project - After Photos