At the June 8, 2015 Middle Niobrara Natural Resources District Board of Director's Meeting, the Board approved a 6-month Temporary Stay on the addition of new groundwater irrigated acres in compliance with Neb. Rev. Stat. 46-707(2).
The Board also requested that the Nebraska Department of Natural Resources implement a similar 6-month Stay on new surface water irrigated acres.
These temporary Stays went into effect on June 29, 2015.
At the December 14, 2015 Board of Director's Meeting, it was determined the Stays should be continued until the competition of the Integrated Management Plan for the District.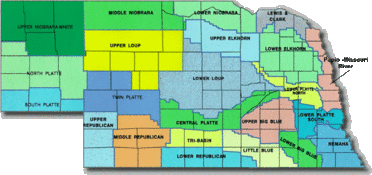 Click here to access the updated NRD Groundwater Quantity/Quality Regulations.
Voluntary Integrated Management Plan
NeRAIN
The MNNRD participates in the NeRain program which tracks yearly precipitation across the state. If you would like to track daily precipitation at your location please stop in to the office to get a rain gauge and to activate an account you can report from on any computer or smartphone. 
Ambient Water Sample Collection
The MNNRD and Nebraska Department of Environment and Energy(NDEE) work together to collect data from surface water sources across our district. Sampling locations include Plum Creek, Long Pine Creek, and the Niobrara River, along with many others. Every first Monday of the month staff collect water samples, water levels, and data such as PH, conductivity, and turbidity. These water sample test for the presence of "Blue green algae", E Coli, and pesticides. If you would like more information please contact the MNNRD or NDEE.
Nitrate Sampling
Every summer the MNNRD staff collects around 400 water samples from household, livestock, and irrigation wells all across the district. These samples are shipped off to Wards lab in Kearney to be tested for Nitrates. Nitrates occur naturally and are not harmful at levels less than 10 Parts Per Million (PPM). Nitrate levels over 10 PPM are dangerous to humans if consumed, especially the elderly, infants, and pregnant women. Over usage of commercial fertilizer, leaching of animal or industrial waste into water systems, or leaking septic systems can all cause nitrate levels to spike over 10 PPM. If you would like your water tested for nitrates please stop in or call the office to get a sample bottle and instructions.
Check out this website from the CDC on more information about Nitrates. 
https://www.cdc.gov/healthywater/drinking/private/wells/disease/nitrate.html
Chemigation
Any producer applying an agricultural chemical through an irrigation system in the state of Nebraska must be in compliance with the Nebraska Chemigation Act of 1987. Any person involved in the calibration or monitoring of a chemigation system must be certified through NDEE. They must also get a permit from their local NRD and pass an inspection of their equipment for every injection site. The MNNRD does inspections on all permitted irrigation system every two years. This does not apply to irrigation systems pumping from the Ainsworth Irrigation District (AID). The MNNRD sends out permits every spring before irrigation season. Please follow the instructions on the back and return them before June 1st. If you have any questions please call the office. If you are not receiving permits and need them, you can find the forms under the water resources page or you can contact the MNNRD.  
The University of Nebraska puts on trainings and exams every year for certifications through NDEE. The website below contains instructions. 
http://deq.ne.gov/NDEQProg.nsf/OnWeb/Chemtrai#:~:text=The%20Nebraska%20Chemigation%20Act%20was%20passed%20in%201987,used%20to%20apply%20crop%20nutrients%20and%20pesticides%20%28chemigation%29.
For more information on Chemigation Rules and Regulations, calibrating your system, and other helpful tips click on the link below. 
https://water.unl.edu/documents/Chemigation%20Manual_Revised%202019.pdf
Static Water Levels
Static water levels are measured every Spring and Fall at 150 designated monitoring and irrigation wells. This data is used to monitor water levels before and after irrigation season and to estimate recharge rates. This data is very crucial in making decisions involving well drilling moratoriums and water allocation rates. This data is also shared with other agencies for use in understanding how aquifer systems work and to monitor long-term changes in groundwater. For current results, contact the MNNRD office or visit http://waterdata.usgs.gov
Nitrogen Certification Classes
Water Programs Supervisor Tim Storm offers nitrogen management certification classes each Spring in Ainsworth and Valentine. This course is required for everyone applying fertilizer to crop fields. Certification is valid for four years and is offered in conjunction with the UNL extension chemigation applicator certification classes.