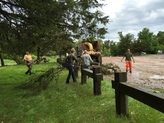 The Middle Niobrara Natural Resources District is an Equal Opportunity Employer.
Applications will be accepted on a running basis. However, positions may only be filled while a vacancy is being advertised. If you wish to be considered for multiple positions, separate applications must be submitted. Incomplete applications will not be considered. Review of applications will begin and continue until each position is filled.
Questions or concerns may be directed to the current Office Administrator (402-376-3241).
Submit a complete application with supporting documentation to:
Middle Niobrara Natural Resources District
303 East Highway 20
Valentine, NE 69201
Fax: 402-376-1040
Or email to mnnrd@mnnrd.org
See below for current openings.
*Currently not accepting applications These positions run yearly through the spring.